Donora, PA Home built about the year 1900 with composition brick siding added in 1942; installed by Andy Warholic with help from brother John Warholic.

Dad and Mother rented in several places before buying a home, already built, at 309 Waddell Avenue, Donora, PA on April 17, 1916. Dad often told us that the home that he bought was one of the first homes built on Waddell Avenue, which we believe was shortly after the year 1900.

I was the first of the last five children to be born in this home, while the first three children were born elsewhere in rented homes in Donora, PA.

I was born on December 6, 1916, in the upstairs bedroom, with a midwife assisting my Mother. — The doctor came around later on in the day in his horse pulled buggy. — I'm sure he didn't do too much for my dear Mother. Mother was probably up the next day, taking care of the three older children ages two, four, and six, and of course me. Dad was working twelve hours a day in the U.S. Steel Plant in Donora, PA. The steel mill was about a fifteen minute walk from our home.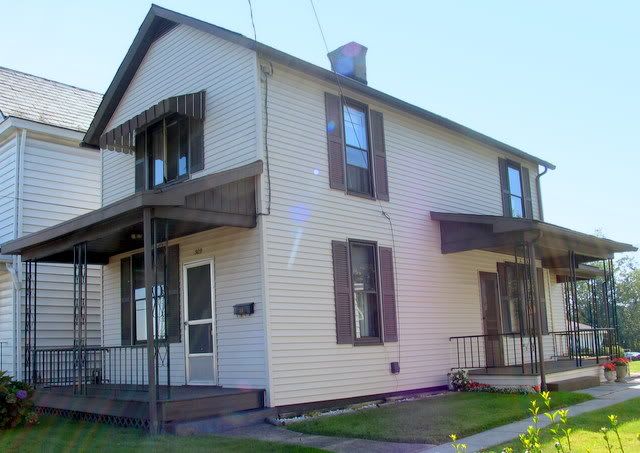 Donora Home in 2007

History of My Dad's Home
1900 - Union Improvement Company sold the home to Michael Petyak for $375.00

1905 - Michael Petyak sold the home to George Elco for $1,000.00.

1905 - George Elco sold the home to Anna Petyak for $1,000.00.

1909 - Anna Petyak sold the home to George Shrader for $3,000.00.

1909 - George Shrader sold the home to Frank Bill for $1,800.00.

April 17, 1916 - Frank and Katharzyna Bill sold the home to Michael and Katharzyna (Catherine) Warholic for $1,775.00.

I can remember our home from about the age of six, and I do have pleasant memories.

Signed Andy Warholic

Excerpt from Andy Warholic's memoirs. Handed down to Jim and family.